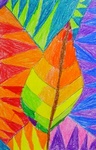 Here you will find free art lesson projects for your kindergarten, first grade, second grade, third grade, fourth grade and fifth grade students. The lessons are free to use and of great benefit as a tool for educating your students in art. They include 30 art education projects per grade for a total of 180. These lessons cover line, shape, color, and all the elements of art.
I hope you enjoy the Arttango art education program. You don't even need to register.
Advantages and Benefits
Helps meet accreditation objectives
Instructional consistency for K-5 students through a spiraling curriculum
One teacher can serve many elementary school classes at the same time
Low cost
Easy to operate and utilize
Web benefits include on-line gallery, assessment tools, enrichment options
Promotes visual literacy
Provides qualified fine arts instruction
Can be easily incorporated with other academic disciplines
Aligned with National Standards for Art Education
Excellent resource for after-school instructional opportunities
Promotes personal achievement in students which promotes self confidence
The online art lessons are in a written format, but Arttango also has available these same lessons in a video format , which will further enhance and build your students understanding of art, giving them a strong comprehensive foundation for all things related to art.
Feel free to Contact Us for more information on Arttango art education video lesson series.